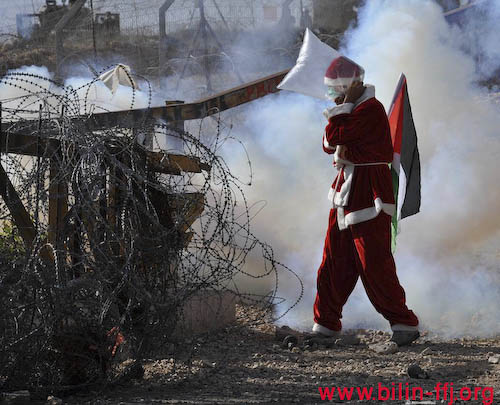 Filmpje, hier. De wekelijkse demonstratie tegen de muur in het dorp Bil'in. Gefilmd door Haitham al Katib.
This is a message to supporters of the Palestinian cause from across the world. Firstly, we would like to thank you for your work so far. As Tzipi Livni cancels a trip to the UK for fear of arrest upon her arrival, it seems that the people are finally waking up to the reality of the Israeli occupation. However, your governments remain shamefully silent.

Here in Bil'in, our struggle goes on. We continue to suffer from the extreme violence of the Israeli occupation forces during our weekly non-violent demonstrations at the Apartheid Wall which has confiscated our land, as well as an escalation in military invasions into the village and mass arrests of local residents, by day and by night, in a clear attempt to crush our resistance.
Despite the international support we have received, it has become clear that words are not enough. It is time for action. The occupation is global, and so must be the resistance. We are asking you to make one action per week, or per month. It can be a demonstration at your nearest Israeli embassy, or against governments which support the occupation. The importance of these actions is to provide a continuous reminder of the plight of the Palestinian cause. There is no use in organizing actions on a one-off basis, the resistance must be continuous.
Our message is clear – this occupation must end.
De website van Bil'in, hier