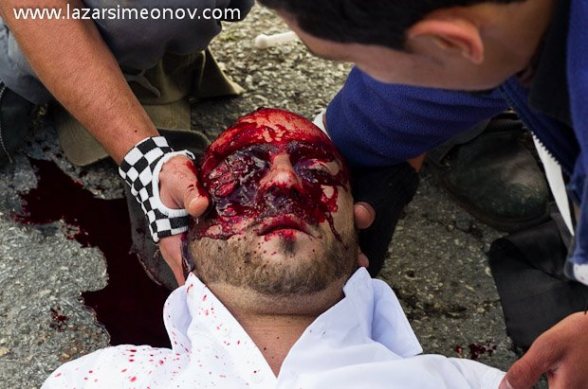 Sorry voor de rottige foto. Maar dit is realiteit. In Nabi Saleh, waar permanent wordt gedemonstreerd tegen de bezetting, en de landroof, aarzelt het leger niet om geweld te gebruiken tegen de demonstranten. Mustafa Tamimi, 28 jaar, werd recht in het gezicht geschoten met een traangas-kogel, nadat hij met stenen had gegooid naar een gepantserd legervoertuig. Op de foto's is te zien hoe er vanaf een paar meter op hem werd geschoten. Het is niet de eerste keer dat demonstranten worden gedood of gewond, doordat de soldaten de 'rubber' kogels of traangascanisters opzettelijk van dichtbij afschieten. Zie de foto hieronder.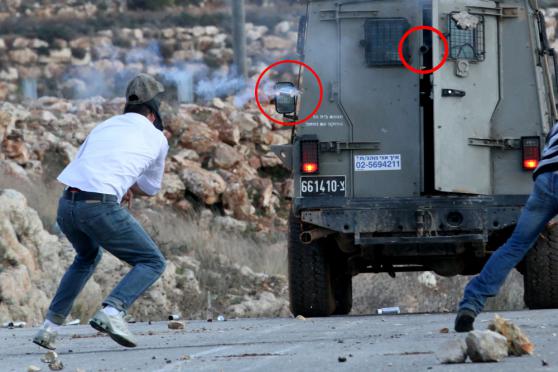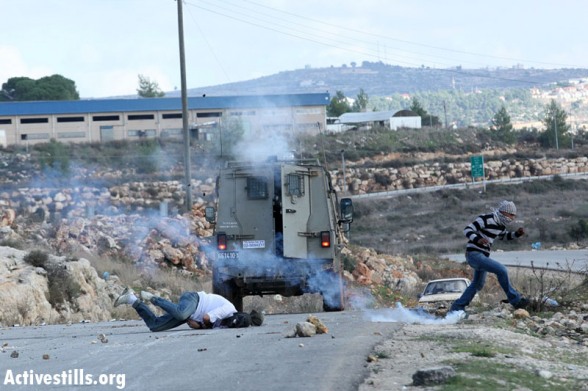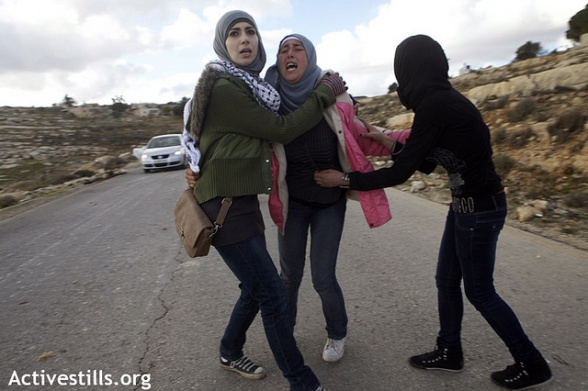 (Mustafa's zusje)
Mustafa Tamimi werd nadat er lang gewacht werd op een helikopter met een ambulance naar een Israëlisch ziekenhuis gebracht. Zijn familie en zijn vrienden mochten niet mee.
Er waren trouwens meer gewonden: ook 'rubber' kogels (dat wil zeggen kogels met een rubber laagje), kunnen zwaar verwonden wanneer ze tegen de regels in van dichtbij worden afgeschoten: er waren gisteren ook nog een man met een beenbreuk en een meisje met een gebroken arm.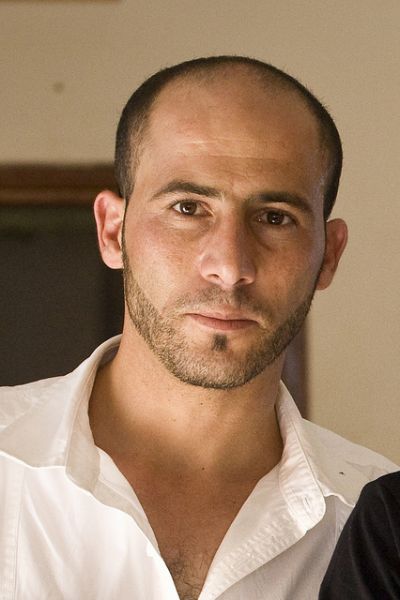 (Mustafa Tamimi, foto active stills)
Update 10.00: Tamimi is gestorven.
Voor meer achtergrond over de protesten op de Westoever:
Hier.
(Source PSCC)
En meer:
Late in 2009, settlers began gradually taking over Ein al-Qaws (the Bow Spring), which personally belongs to Bashir Tamimi, the head of the Nabi Saleh village council. The settlers, abetted by the army, erected a shed over the spring, renamed it Maayan Meir, after a late settler, and began driving away Palestinians who came to use the spring by force – at times throwing stones or even pointing guns at them, threatening to shoot.
While residents of Nabi Saleh have already endured decades of continuous land grab and expulsion to allow for the ever continuing expansion of the Halamish settlement, the takeover of the spring served as the last straw that lead to the beginning of the village's grassroots protest campaign of weekly demonstrations in demand for the return of their lands.
While the model of regularly held protests around the construction of Israel's Separation Barrier became a common one in recent years, the protests in Nabi Saleh mark a significant break from that tradition, in that protest there is entirely unrelated to the Barrier. This expansion of the popular resistance model symbolizes the growing support the model enjoys among Palestinians, and the growing positive discourse around it across the Palestinian political spectrum.
Protest in the tiny village enjoys the regular support of International and Israeli activists, as well as that of Palestinians from the surrounding areas. Demonstrations in Nabi Saleh are also unique in the level of women participation in them, and the role they hold in all their aspects, including organizing. Such participation, which often also includes the participation of children mirrors the village's commitment to a truly popular grassroots mobilization, encompassing all segments of the community.
The Israeli military's response to the protests has been especially brutal and includes regularly laying complete siege on village every Friday, accompanied by the declaration of the entire village, including the built up area, as a closed military zone. Prior and during the demonstrations themselves, the army often completely occupies the village, in effect enforcing an undeclared curfew of sort. Military nighttime raids and arrest operations are also a common tactic in the army's strategy of intimidation, often targeting minors.
In order to prevent the villagers and their supporters from exercising their fundamental right to demonstrate and march to their lands, soldiers regularly use disproportional force against the unarmed protesters. The means utilized by the army to hinder demonstrations include, but are not limited to, the use of tear-gas projectiles, banned high-velocity tear-gas projectiles, rubber-coated bullets and, at times, even live ammunition.
The use of such practices have already caused countless injuries, several of them serious, including those of children – the most serious of which is that of 14 year-old Ehab Barghouthi, who was shot in the head with a rubber-coated bullet from short range on March 5th, 2010 and laid comatose in the hospital for three weeks.
In complete disregard to the army's own open fire regulations, soldiers often shoot tear-gas projectiles directly at groups of protesters or individuals and rubber bullets are indiscriminately shot at protesters from short distances. The army has also resumed using high velocity tear-gas projectiles in Nabi Saleh, despite the fact that they have declared banned for use after causing the death of Bassem Abu Rahmah in Bil'in in April 2009, and the critical injury of American protester Tristan Anderson in Ni'ilin in March of the same year.
Tear-gas, as well as a foul liquid called "The Skunk", which is shot from a water cannon, is often used inside the built up area of the village, or even directly pointed into houses, in a way that allows no refuge for the uninvolved residents of the village, including children and the elderly. The interior of at least one house caught fire and was severely damaged after soldiers shot a tear-gas projectile through its windows.
Since December 2009, when protest in the village was sparked, hundreds of demonstration-related injuries caused by disproportionate military violence have been recorded in Nabi Saleh.
Between January 2010 and June 2011, the Israeli Army has carried 76 arrests of people detained for 24 hours or more on suspicions related to protest in the village of Nabi Saleh, including those of women and of children as young as 11 years old. Of the 76, 18 were minors. Dozens more were detained for shorter periods.