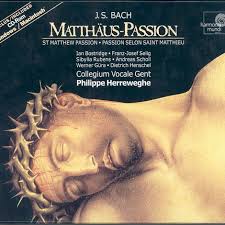 Eens per jaar mag het, vooral mannen mogen het dan, bij de Mattheüspassion:
"Het is een wetmatigheid: in landen waar het vaker regent wordt er minder gehuild. Met kropt op, men luistert Bach, als emotioneel afwateringssysteem. Een man mag niet huilen behalve om Bach. Bach is onze emotiegeleider. (..) Wie zegt; 'ik heb gehuild om Bach', krijgt begrijpende blikken. Bach luisteren is als uien snijden: een veilig alibi voor je tranen. Bach is een ui. Een salonfähige ui".

Uit een column van Arjen van Veelen, NRC, 17 april 2014
* Ik kom zo vaak passages in bladen of boeken tegen met een interessante uitspraak of een citaat waarvan ik denk: iets mee doen. En dan komt het er niet van. Omdat ik zo vaak van die lange stukken schrijf, af en toe een korte. Ter lering en vermaak.
Reacties uitgeschakeld

voor Ter lering ende vermaeck* : Bach als ui