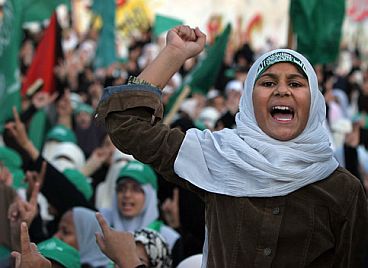 Dina Ezzat spends a few days in Gaza
Al-Ahram. Foto van Electronic Intifada.

Nothing new about Palestinians complaining of miserable living conditions on that narrow coastal strip known as Gaza, or human rights activists pointing to the potentially "explosive" situation there. Gazans like Salah, 25, even joke about it: "After their death, the Israeli Prime Minister Yitzhak Rabin, the Jordanian monarch King Hussein and the Palestinian leader Yasser Arafat met in hell, where they were being punished for failing to bring about peace. So they drew up a peace deal and asked to phone their successors to implement it. Rabin was charged $100 for the call, King Hussein $50, but Arafat only $1. Perplexed, he asked 'Why?'. 'You called Gaza,' he was told. 'That's a local call from here.'"
The humorous approach is typical, and perhaps the only possible response to conditions described by UN Assistant Secretary General for Humanitarian Affairs Jan Egland as fast turning into "a social bomb under the brunt of frustration and poverty". In a UN Security Council briefing last month, UN Secretary General Special Envoy to the Middle East Alvaro De Soto spoke of the devastating effect on Palestinians — individuals and institutions alike — of "the virtual siege" currently imposed on them. Relief was supposed to come following the unilateral withdrawal of the Israeli army from Gaza, but since then access restrictions have resulted in food shortages, crippling the agricultural and fishing industries.
Hussein, a fisherman, was holding his line by the shore. "This is not fishing," he explained. "To fish you need to be out in the sea, which we cannot do because Israel won't let us. Nobody can make Israel do anything it doesn't want to do. No, not fishing. This is me trying to catch a few fish for us to eat. Right now the only other thing I can do is to go begging." Nor are the shallow-water fish safe for human consumption, what with the sewerage pumped directly into the sea. As far as Hussein is concerned, however, the natural salinity is a sufficient precaution. "It is not as if we live in Finland," he snaps. "We live with sewerage all over us in dirty refugee camps, with neither drinking water nor electricity; we have to queue up for potable water, and we know even that is not entirely clean. We have no food to eat."
According to Hussein, the feeling is that nobody cares for the Gazans; he is particularly disappointed in the Arab countries who, he says, are letting the women and children starve. Indeed, in the words of the World Food Programme (WFP), "Gaza's food security is an issue of serious concern". The WFP is among many organizations that have been speaking out, unheeded, against the effects on Gaza's 1.4 million residents of the siege imposed since Hamas was elected almost a year ago. High-profile, including UN, meetings have been called to discuss the issue, and many parties have pleaded with Israel to end the siege; yet what help has been extended is but "a drop in a sea", as Gazans like to say.
But blaming Israel can afford no more than a temporary verbal release, so long as the occupation forces resume their activities in the area. Amin, 40, showed me the rubble of his own house, demolished following an incursion into Rafah, south of Gaza. "They say they withdrew," he said, "but every day they're here chasing people, demolishing houses, wrecking roads and hospitals."
The "rubble tour" is among the area's premiere attractions, in fact. Anyone with some time — given unemployment rates: the vast majority — will happily act as guide, pointing out the dismembered electricity network, the houses of members of the Islamic Jihad and Hamas, and the offices of Hamas government figures — among them Mahmoud Al-Zahhar, who has vowed to revise the entire peace process to "put an end to the practice of compromising Palestinian rights". All the buildings have been leveled, whether because "terrorists" were hiding in them or to send a message by tearing down houses before their inhabitants. "They just told us we had to get out if we wanted to stay alive," one elderly woman recalled while scouring the remains of her house for items that might have survived. "We said we had nothing to do with the resistance but the soldier in charge was clear: 'Get out before you die under the rubble.'"
Rubble aside, there is the "rubbish pile tour" — an olfactory as well as visual experience bearing testimony to the cleaners going on strike. "Look," exclaimed Faisal, 12, pointing out that, with the financial embargo on Hamas, government employees have not been receiving their wages. "Is this a way for human beings to live?" We were walking down a street almost totally overtaken by sewerage and rubbish, and Faisal pulled his sleeves over his nose as he talked. "It's impossible to get away from the smell. Why must we live like that? Is it fair? And then they blame us for hating Israel. But it's not just Israel that we hate. We hate the whole world." As it turned out, he was expressing a very widespread sentiment.
Mohamed, 25, thought it outrageous that Palestinians should be punished so harshly for electing Hamas: "I am not saying we used to live in a nice town, but before the elections things were never quite so bad. I don't understand, I thought they wanted democracy in the Arab world, and these were democratic elections." He was particularly upset by the recent decision of international donors to suspend a project to upgrade the city's main roads: "How is it punishing Hamas to stop a project like this? Surely they realize that not only Hamas people use the roads every day. Is this their way of telling us that we must go with what they want? Well, we won't, no matter how hard the punishments we have to suffer."
As the Gaza-based UN Relief and Works Agency or Palestine Refugees in the Near East (UNRWA) Director John Ging points out, hard and inhumane as it has been, that punishment has not really made the headlines: "I passed the worrying phase a long time ago. We should be extremely distressed." The tragedy of over one million people completely dependent on food handouts, he said, can hardly be exaggerated, nor can the frustration of relief agencies like UNRWA with their inability to provide "very basic commodities like salt and sugar", and the UN struggling to deliver on time. "On several occasions," Ging went on, "we simply ran out of food." With Israel's unpredictable responses to the entry of food into Gaza, UNRWA is often at a loss what to do. But last year's problems were far milder than this year's. "It's true that nobody is dying of hunger, but people are suffering serious symptoms of malnutrition. It is also true there are vegetables out there on the market, but people don't have the money to buy them."
Equally, if not more, terrifying are the medicine shortages, however, which coincide with soaring illness rates resulting from poor living conditions as much as from military violence. "Doctors will tell you there has been an unprecedented increase in the number of amputees here in Gaza." Under "austerity measures", the hospitals have not been able to keep up with the sick and injured. "It's a textbook case of dehumanization," he says, "a tried and tested recipe for bringing about violence. It's a very violent reality that people have to put up with here." Among many other brutal measures, for example, "Israel has no business keeping the Palestinian tax money." Revenues to which Israel has been denying Hamas rightful access could be used to provide the residents of Gaza with much needed amenities and services.
Not only is there a lack of basic amenities, but Gazans are cut off from the rest of world. To exit in the direction of the West Bank, you must pass the Erez crossing point; to exit in the direction of Egypt, you must pass the Rafah crossing point; Israel ensures that both experiences are profoundly unpleasant. Especially, but not exclusively, after the kidnapping of the Israeli soldier Gilad Shalit last June, Israel has contravened an agreement with the Palestinian Authority, concluded last year under the auspices of US Secretary of State Condoleezza Rice, stipulating that the Rafah border — through which students, pilgrims, travelers, and, notably, patients need to pass — should be operated by European Union observers. Efforts by the Egyptian government to facilitate a smooth passage have frequently been blocked by Israeli incursions into Rafah and an area on the border known as the Philadelphi corridor.
One Palestinian woman, 70, had been camping at the Rafah crossing for two nights when I spoke to her, hoping to see her doctor in Cairo: "I really hope it will open tomorrow. I have no choice but to wait. I can't keep going and coming. But it's an urgent complaint." She had been brought by a rumour that the border would be open, evidently groundless. By night the word was that it would be open in the morning, now that Israelis had arrested the resistance fighters they were looking for. But the next day, the border was still closed. Nor is this the only case of nights spent in the open: lack of resources, physical and financial, as well as paranoia about missing the opening hours, overcrowded as they tend to be, has forced hundreds of people to spend up to a week camping at the Rafah border in anticipation.
However tough it might be passing into Egypt, it is nothing compared to what those Palestinians who can — depending on legal papers — must go through at the Erez crossing. "Erez, God's mercy be upon us," Younis, an older Palestinian, exclaimed. "Erez is the true nightmare. If you were being checked to meet the US president in person, the procedures wouldn't be half as hard as this."
At Erez, aggressive, heavily armed soldiers check and double-check papers for hours on end; they humiliate passengers whenever they have a chance, searching through every intimate item of their luggage — a treatment, meted out to Gazans more than others, seemingly intended for criminals. Gifts are manhandled by officers who have no ears for pleading; books are rifled through, sometimes page by page. At the end, every passenger is forced to undertake a 15-minute walk through a tunnel, conveying luggage and escorting children as they see fit, without any form of transportation or facilities. Palestinian workers going to Israel have an even tougher deal of it; according to Israeli human rights organizations, recently they were denied the right to carry even a sandwich; only their identity papers were allowed.
The Israeli authorities justify all such measures with their concern over suicide bombings; in vain do humanitarians, including Israelis, invoke the Geneva Convention's provisions for people living under occupation. According to Ossama Al-Farra, governor of the southern Gaza city of Khan Younis, "Very few Palestinian workers have been allowed across the Green Line recently. So we cannot export our agriculture products; we cannot get workers to go across the Green Line through Erez or to Egypt and the rest of the world through Rafah. What are we supposed to do?" For Al-Farra, the concern is increasingly with security as well as economic and humanitarian conditions. "Under such coercion people are so bad- tempered it's got to the point where they bring out weapons in any ordinary, day-to-day fight."
The governor is particularly concerned with clashes between members of the police force who have conflicting affiliations with Hamas and Fatah. But not every instance of crossfire is between these two Palestinian factions, he adds. In recent weeks the most frivolous fights between unaffiliated Palestinians have resulted in the use of firearms. Yet what would seem to be most alarming, indeed, is that some Palestinians are directing their frustration and anger at the Palestinian Authority itself.
Mahmoud, 26, is a case in point: "This is not all the doing of Israel. The Palestinian Authority is equally to blame for embezzling funds sent to help us — now found in the pockets of the big names." According to the Gaza- based Palestinian human rights activist Mohamed Abu Rahma, indeed, with so much corruption and nepotism, the Authority contributes as much to violating the social and economic rights of Gazans as Israel. Analysts have pointed to a twilight zone in which the interests of the Israeli occupation and those of the Fatah-controlled Palestinian Authority seem to meet. Toppling Hamas, at least, is one common objective, while the international community's complacency about human rights violations helps facilitate the crimes: "When donors suspend aids in response to the wishes of the occupation forces they are actually violating the Fourth Geneva Convention — and only to be rid of Hamas."
The collective punishment imposed by Israel, Abu Rahma said, is actually supported by the Palestinian Authority — in the attempt to demonise Hamas; and this, he says, is the reason behind the unprecedented misery of the Palestinians, especially the women, who traditionally bear the burden of making ends meet in an unbearable situation. Is the strategy working, though? The statistics of Fatah-run think tanks suggest that Hamas's popularity has suffered considerably in the last few months.
Yet judging by the testimony of Gaza resident Ayman Al-Amour — in tears over the death of two loved ones –Hamas would seem to be as popular as ever: "During the incursion into Rafah, where I live, I lost my brother and my uncle. My uncle was shot dead by the Israeli army. My younger brother — he was only 14 — got scared, so he went off running and was hit dead by a car. But Palestinians have always offered martyrs from among themselves. We will go on being martyred until we have liberated our land." It hardly needed explaining that it is precisely for championing such a cause that Al-Amour and the many young men at his brothers funeral, when we spoke, proffer unlimited support for Hamas.